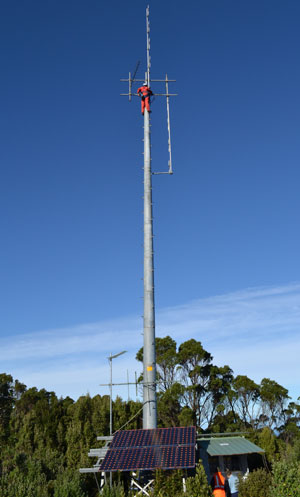 Tas Maritime Radio Network
Because Tas Maritime Radio is Tasmania's official Coastal Radio Station we monitor and broadcast on VHF and HF frequencies.
Tas Maritime operates a comprehensive network of remote and elevated VHF base stations, as well as dedicated HF receivers and HF base stations. All these base stations are multi-frequency equipped and powered from batteries to cover power interruptions or lack of sun for solar-powered sites. Most of the network and its upkeep is done by in-house by volunteers, but we are indebted to Marine and Safety Tasmania (MAST) for paying some big bills for the maintenance of some of the remote sites – particularly those that need helicopters for access. We also applaud Tas Networks for granting us access to some of their infrastructure in remote regions. Such cooperation is very Tasmanian.
Most of our work is done with small vessels on VHF. HF is more likely to be fitted to larger vessels on long voyages.
The VHF network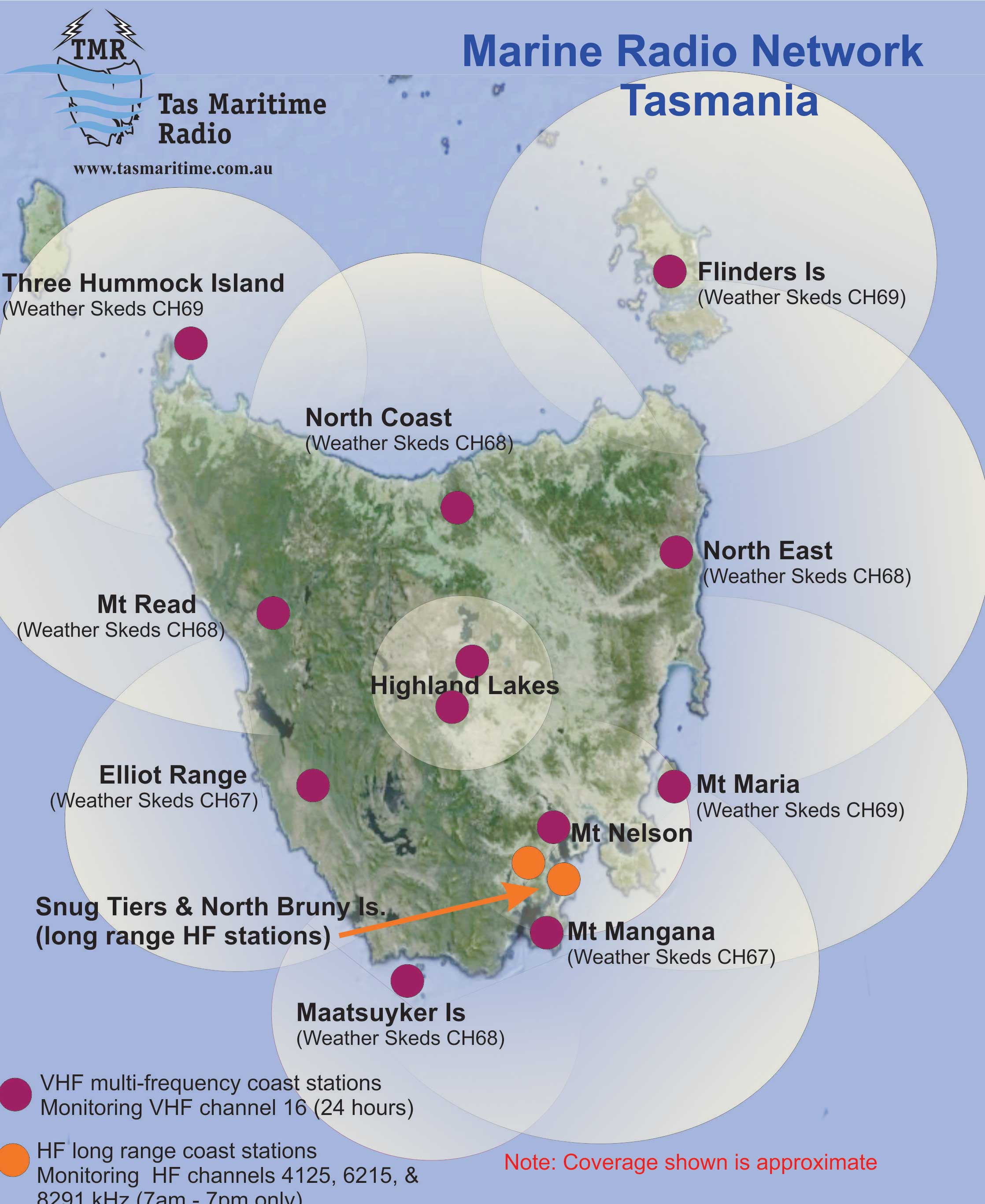 This coverage map shows locations from which you should be able to communicate with us on VHF. The higher your antenna is mounted, the greater your VHF range (remember that VHF is largely line-of-sight). Most VHF bases are located on hills or mountain tops.
As can be seen from the map, we cover virtually the whole Tasmanian coastline on VHF. The pink dots on the map indicate the location of the bases and the highlighted circles the coverage areas. There's quite a bit of coverage overlap which is why we ask you to change to different channels for skeds (69 for North East and North West Coast, 68 for Flinders Island, Maria Island, Mt Read and Maatsuyker Island, and 67 for Mt Mangana, Elliot Range and the Central North Coast. We also have extensive safety coverage over the Central Highland lakes
All bases are monitored by Golden Electronics Security on behalf of TMR from 1900 - 0700 hours for urgent calls only.
HF Radio
The orange dots in the above image indicate HF installations. The installation on Bruny Island utilises three fixed receivers tuned to the 4,6,& 8 mHz distress frequencies, while a high power transceiver is connected to a 40 metre vertical antenna. Snug Tiers has backup HF receiving capability and 2 high powered transmitters.
HF radio waves reflect from the ionosphere which makes HF very susceptible to many factors (day/night, solar activity etc) and can suffer from more interference than VHF, but the rule of thumb is a higher frequency for greater range. We regularly hear Taupo Maritime Radio from New Zealand and assist them at times with relays to vessels. Vessels on long voyages can usually communicate with us well into the South Pacific and all the way to New Zealand. Often we provide vessels with radio checks in NSW, Victoria and SA – and have even picked up the US Coast Guard installation from Kodiak Alaska.
Linking the Bases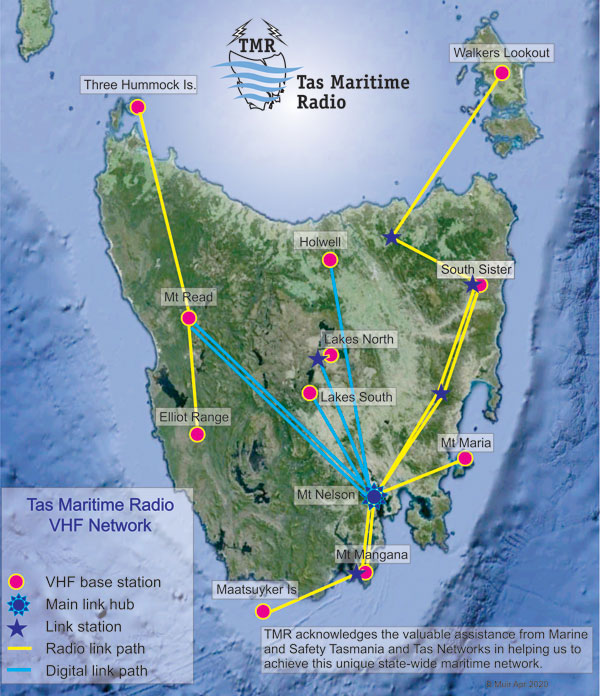 The map to the right shows how we link the bases. All links are radio links, either digital or analogue, and link through the link hub at Mt Nelson.
The VHF automated weather service is computer-generated by the weather bureau and downloaded to a computer and fed via a link to the transmitter at Snug Tiers.