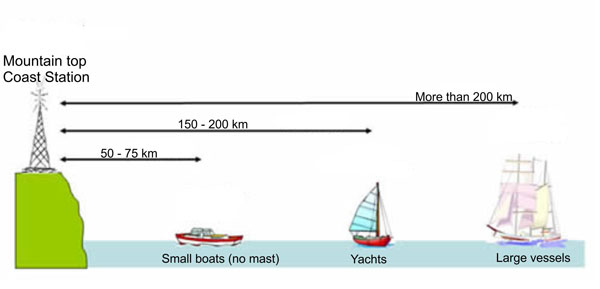 VHF
Reliable communications around the Tasmanian coast.
The term Very High Frequency (VHF) refers to the VHF maritime mobile band which is the radio frequency range between 156.0 and 162.025 MHz inclusive. The frequencies are divided into channels (eg channel 16) for ease of use. The VHF band sits above the HF band (ie, higher frequencies) and is used for relatively short distances which makes it ideal for maritime radio.
How VHF works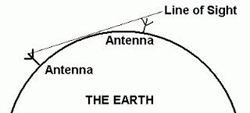 VHF transmissions do not follow the earth's curvature unlike HF. You can see from the diagram that having the antenna higher will increase the range. That is why coastal stations have their installations on the top of mountains. You can increase the range of VHF even further by mounting your vessel's antenna as high as possible.
To give you an idea of this, from 2 metres above seas level (say you on the deck of your vessel), the distance to the horizon is approximately 2.7 nautical miles. Double that and the distance increases to 3.8nm. If your antenna is 10m above sea level, the distance is now 6.1nm.
TMR's antenna at Mt Mangana on Bruny Island is approximately 575m above sea level. The distance to the horizon from that antenna is about 46nm. Take into consideration the height of your vessel's antenna, and that distance increases again. That's easily 60nm and more.
Channels
While there are literally dozens of channels available on VHF, many are reserved for particular use, such as Search and Rescue (SAR), fishing boats (ship-to-ship), and port operations.
Recreational vessels will use a small subset of these channels, as follows:
| | | |
| --- | --- | --- |
| | Channel 16 is the distress, safety and calling channel. You should leave your radio tuned to this channel so that you are able to hear any distress calls. You can also use channel 16 to call Tas Maritime Radio and you will then be directed to a working channel. Do not conduct a conversation on channel 16! | |
| | Channels 72, 73, 77 are working channels, used for non-commercial operations and recreational vessels. Use these channels to communicate with other vessels, but be sure to switch back to 16 when you've finished; | |
| | Channel 66 (a duplex channel) is used by TMR as a ship/shore working channel. This channel will not work as a ship to ship channel; | |
| | Channel 1 is a channel dedicated to the automated weather broadcasts for South Eastern Tasmania. Forecasts for South East coastal waters, the Derwent River, Storm Bay, Frederick-Henry Bay, Norfolk Bay, and the D'Entrecasteaux Channel are broadcast on the hour and half hour 24 hours a day. | |
Skeds on VHF
TMR conducts skeds on the sked working channels 67, 68, 69. A pre-announcement is broadcast on the calling channel and vessels are asked to select a working frequency appropriate to their locations to listen to the sked.
The table below lists these channels and locations:
| | | |
| --- | --- | --- |
|   | Channel | Location |
|   | 67 | South-east coast, South-west coast |
|   | 68 | Central North Coast, Central West Coast, North East Coast & Maatsuyker Island |
|   | 69 | Upper east coast Eastern Bass Strait, Lower East Coast & Far North West Coast. |