Incident Management
In distress? We're here to help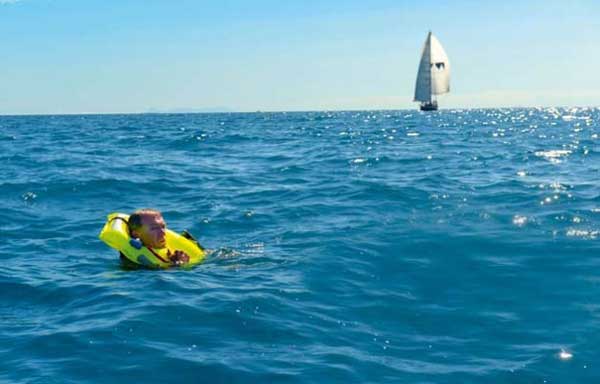 Over the years Tas Maritime Radio has assisted in the management of boating incidents around the Tasmanian coast and sometimes further afield.
TMR's involvement consists of using our radio infrastructure to coordinate with the vessel in distress, Tasmania Police, and other vessels or persons who are willing to assist.
Tas Maritime acknowledges the assistance of Tassal, Huon Aquaculture, and our many "RG" members in particular, as well as other private and commercial skippers in general who give up their time to come to the aid of vessels in distress.
In most cases Tas Maritime will learn of an incident when a vessel transmits a Mayday or PanPan message (see When Trouble Strikes in the Using Your Radio section of this website). At other times Tasmania Police will advise of an incident and request TMR's expertise in seeking assistance for a vessel in distress. Sometimes the information comes from a member of the public who witnesses an event or is relaying information telephoned to them by the skipper of a vessel in distress.
Thankfully only few incidents involve immediate danger to a vessel or those on board (including medical emergencies) and in these cases Tas Maritime will coordinate with Water Police vessels or helicopters, other Search and Rescue (SAR) vessels, other vessels coming to assist. Incidents further out to sea may involve coordination with the Rescue Coordination Centre (RCC) in Canberra and SAR aircraft and possibly commercial shipping operators.
More often the incidents are more inconvenient than dangerous to the person or vessel concerned but still require coordination to reach a resolution. Such incidents include equipment failure, drifting vessels, floating logs and debris, man overboard situations close inshore (eg kayaks) and vessels running aground. In these instances it's easy to see how boating people pull together to help one another.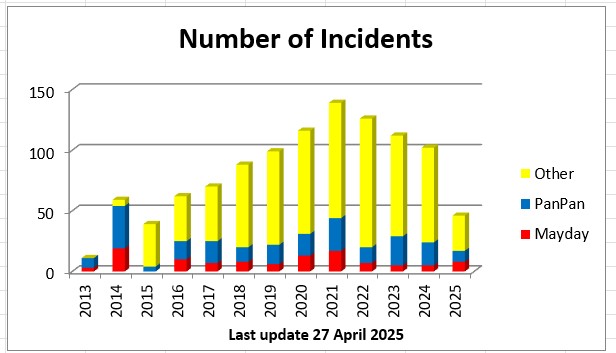 This chart shows the number of incidents that Tas Maritime operators have handled since September 2013. It's broken up into Mayday situations (immediate danger of loss of life and/or vessel), PanPans (for instance disabled vessel not in immediate danger), and other more minor calls (lost, can't reach mooring etc).